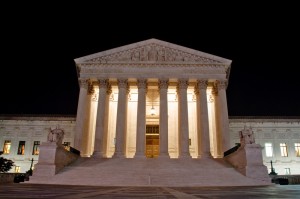 On April 27, 2015 the Supreme Court of the United States granted certiorari on a petition filed by Spokeo, Inc., asking the court to review the Ninth Circuit opinion in Robins v. Spokeo, Inc., 742 F.3d 409 (9th Cir. 2014). On February 4, 2014, the circuit court ruled that an allegation of a violation of the Fair Credit Reporting Act (FCRA) ipso facto satisfied the injury-in-fact requirement of Article III of the Constitution. Whether violation of the FCRA does confer standing upon a plaintiff is an issue that will greatly affect the landscape of privacy and cyber litigation by either opening or closing a key theory of liability.
The California district court had held that Robins had failed to allege an injury-in-fact, when he alleged that Spokeo operated a website that provided users with the contact data, marital status, age, occupation, economic health, and wealth level of individuals and reported false information about him, causing actual harm to his employment prospects in addition to stress and worry.  After the district court dismissed Robins's complaint for lack of standing, he appealed.
As an initial matter, the Ninth Circuit explained, the statutory cause of action did not require a showing of actual harm when a plaintiff sues for willful violations and identified the issue before it as whether violations of statutory rights created by the FCRA are "concrete, de facto injuries" that Congress can elevate to legally cognizable injuries.
The Ninth Circuit held that Spokeo's violations of the FCRA satisfied the injury-in-fact requirement of Article III because Robins satisfied two constitutional limitations on Congress's ability to confer standing: (1) a plaintiff must allege the defendants violated his statutory rights, and (2) the statutory right at issue must protect against "individual, rather than collective, harm."  The Ninth Circuit reasoned that Robins alleged that Spokeo violated his statutory rights and that his "personal interests in the handling of his credit information are individualized rather than collective." Because it ruled that violation of the FCRA was sufficient, the Ninth Circuit did not address whether harm to Robins's employment prospects or related anxiety were sufficient injuries-in-fact.
We will provide further updates as the matter progresses in front of SCOTUS.