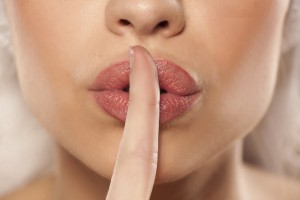 Nothing good has come from the Ashley Madison hacking incident, except hopefully some well-deserved apologies to loved ones. Now the E.D. Mo. Court hearing the In Re Ashley Madison Customer Security Breach Litigation, MDL No. 2669, has shaken its finger at the forty-two named plaintiffs who moved the Court for permission to use pseudonyms rather than their actual names in the lawsuit. See April 6, 2016 Order.
The primary basis for the forty-two named plaintiffs' plea to the Court to use pseudonyms was "'to reduce the risk of potentially catastrophic personal and professional consequences that could befall them and their families' should the named plaintiffs be publicly identified as someone whose sensitive personal information, i.e., names, email addresses, credit card information, and sexual preferences and habits, was contained in Avid's 'cheating website' database." While it is true that significant hardship has fallen on many whose personal information was outed, and with all due respect to the tragedies that have resulted, this isn't about credit card information. Those cards can obviously be canceled and reissued. It's about reputational effect. No one forced these individuals to serve as named plaintiffs. And they can choose not to do so, as the Court aptly points out.
From a legal perspective, the Court's ruling is sensible on a number of levels. For one, masking the names is largely irrelevant since the leak of information itself has made access to the entire list of users, who presumably are also the lion's share of class members – whether named or not – possible through a few keystrokes and mouse clicks. Moreover, the Court noted that a totality-of-the circumstances balancing test must be applied to decide whether a litigant has the right to sue under a pseudonym, in light of the favored presumption of openness in judicial proceedings. Critical factors that the Court considered include that: 1) The Ashley Madison plaintiffs' privacy interests don't rise to the level of precedent cases in which plaintiffs have been permitted to file a suit using pseudonyms; 2) Putative class members should have the ability to evaluate the adequacy of representation by named plaintiffs; 3) Named plaintiffs generally receive an incentive award for being named plaintiffs when damages are calculated (if any); and 4) Any one of the forty-two named plaintiffs that does not want to proceed with his true name may dismiss the complaint and still stand the potential for recovery as a putative, unnamed class member.
Wisely, the Court recognized the prematurity in the argument that if a class rep chooses to dismiss his case, such action may result in sub-classes if there are no other individuals willing to disclose their name(s). That is something for the Court to address if and when it occurs. I personally don't think it matters.
From my perspective, practically speaking, if you voluntarily make a bed, you sleep in it. Yes, pun intended. If an Ashley Madison user is still trying to conceal their attendance at the virtual amusement park of infidelity, that's a personal issue. And if it affects professional reputation, well it was a choice in the first instance. Try having some humility and remorse for mistakes made. There are no "get out of jail free" cards in the real world, nor should there be.
The bottom line to me is that this is just a continuation of the same "I want to have my cake and eat it too" mentality that Ashley Madison users have had for years in their personal lives. The Court has reinforced the fact that absent class members' ability to demonstrate the adequacy of class representatives, along with a public interest in disclosure and the lack of harm rising to the level of a need for pseudonyms on a pleading, shouldn't allow these plaintiffs to lick the frosting from the cake batter while their dessert is baking. At bottom, deal with the consequences of what you chose to do, folks.